ADA Wheelchair Lift
As a leading mobility equipment dealer in the US, DAY Elevator & Lift offers quality wheelchair lift systems that are compliant with ADA regulations. Serving the Tri-State area of New York, New Jersey and Connecticut since 1992, our extensive clientele includes home owners, builders, architects and contractors.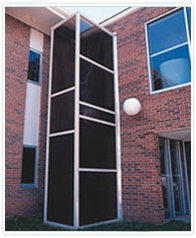 Safe and Reliable Mobility Solutions
Our ADA compliant wheelchair lifts provide wheelchair users safe and smooth floor to floor access in buildings with space constraints. They are excellent options in situations where ramps and elevators are not feasible. We supply models for both indoor and outdoor use in residential and commercial environments. Our ADA compliant accessibility solutions include vertical wheelchair lifts, inclined wheelchair lifts and portable wheelchair lifts from ThyssenKrupp Access, Savaria and Adaptive Engineering.

The accessibility equipment in our vast inventory have user-friendly controls and standard safety features such as emergency stop buttons, constant pressure control switch, door interlocks, non-skid platform, underpan sensors, remote control, and more.
Premium Service for Your
ADA Wheelchair Lifts
Your safety and comfort is our main priority. We therefore provide quality installation and maintenance service. Our timely inspections ensure that equipment downtime is minimal. We also perform Category 1 and 5 testing for all models of wheelchair lifts.
Get in Touch with Us
To learn more about our ADA compliant wheelchair lift and other mobility products, call 1-800-758-5438 (toll-free) or send an email to sales@dayelevator.com. Fill in our 'Free Consultation Form' to schedule an appointment with us.