Indoor Wheelchair Lifts
Superior Quality
Wheelchair Lifts
Come to DAY Elevator and Lift to select from a wide range of indoor wheelchair lifts that suit the architecture and décor of your residence, office, restaurant, or school! We are a well-established wheelchair lift company, serving customers in the Tri-State area of New Jersey, New York, and Connecticut. The brand names in our inventory like Savaria, ThyssenKrupp Access, and Adaptive Engineering show the value we attach to superior quality. Choose from inclined, portable, and vertical wheelchair lifts.
So Many Models to Choose From
DAY offers the following wheelchair lifts: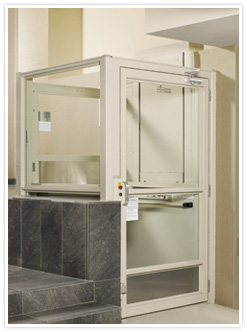 Beautiful Design, Durability, and Safety Guaranteed
Benefit from residential and commercial wheelchair lifts that ensure hassle-free movement from one level to another and which are durable, safe, attractive, and best of all, offer real value for your money. When DAY is here to serve you, you needn't have any worries about installation, repair, or upkeep. We'll take care of everything. Our service technicians are not just factory trained, they are certified too. The periodic check-ups are sure to be a boon for you.

To know more about indoor wheelchair lifts available from DAY, dial 1-800-758-5438 or send an email to sales@dayelevator.com.