ES-125 Inclined Platform Lift
DAY Elevator & Lift, a reputable distributor of mobility equipment based in New York, offers premium quality mobility devices from leading manufacturers. To provide convenient and safe access for persons with restricted mobility in residences and commercial places, we offer the exclusively designed ES-125 inclined platform lift from the leading manufacturer Savaria. The ES-125 wheelchair stair lift is an easy to use accessibility option for residential and commercial buildings where space constraints prevent accommodating an elevator or a vertical platform lift.
Inclined Platform Wheelchair Lifts
- Ensure Maximum Safety and Comfort

The ES-125 model inclined platform lift is a space saving option, and can be installed easily without making major alterations in the existing stairway structure. With its innovative design, durable construction and quality components, the compact ES-125 wheelchair lift assures maximum safety, convenience and comfort to the users.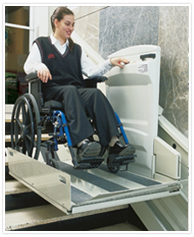 Some of the features of this model:
Non-skid platform
Obstruction sensors on access ramps
Automatic dual access ramps
450 lbs lifting capacity
Slack cable switch
Keyed continuous pressure controls
Underpan sensors
Audio visual alarm
Mechanical emergency brake
Folding seat with seatbelt
Upper/lower limit switches
Another important feature of ES-125 model is that when the lift is not in use, it can be kept folded compactly, so that the other users can conveniently access the stairway. Apart from being a suitable indoor as well as outdoor option for residences, this wheelchair stair lift is an ideal choice for providing smooth floor to floor access in churches, schools, restaurants, municipal buildings and nursing homes.
Superior Customer Service
Our experienced and trained professionals offer planned and trouble-free installation for all models of inclined platform lifts. To ensure steady performance for your equipment and reduce downtime, we provide timely inspections, maintenance and repair services. We perform or witness category 1 and 5 testing for wheelchair platform lifts, and also take care of all the necessary filings. Our professional services and innovative products are available to our valued customers in the Tri-State area of New York, New Jersey and Connecticut.
Call Us Now
For more information about the ES-125 model inclined platform lift and a range of other equipment we supply, please dial (800)758-5438, or send an email to sales@dayelevator.com.