Wheelchair Lift Costs
Wheelchair lift costs vary with the different models, manufacturers as well as the features incorporated. DAY Elevator & Lift can help you get the best deals within your budget. Ours is a leading wheelchair lift company committed to providing premium quality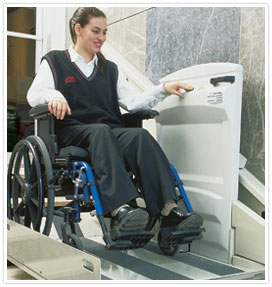 accessibility products for homeowners, architects, designers and builders.
Buy Competitively Priced
Wheelchair Lifts
You can give a lavish touch and add more convenience to your interiors with attractively designed wheelchair lifts from leading brands. DAY's competitively priced wheelchair lift models are sourced from reputable manufacturers you can trust -- ThyssenKrupp Access, Savaria and Adaptive Engineering. The costs of the wheelchair lifts vary according to their features and specifications which include speed of operation, size of the device and durability.

At DAY you can make a selection from lifts of all makes and designs which include vertical wheelchair lifts and inclined platform lifts in varied price ranges, meeting the needs of our valued customers. Apart from the cost saving features, our products are equipped with superior safety features.
Cost-effective Installation Services
Installation, maintenance and regular service charges are also a major consideration when buying a wheelchair lift. At DAY, we have a team of highly skilled, motivated professionals to provide quality post-sales services within your budget. Our technicians and other professionals take care of everything from initial installation to repair and maintenance services of the products you buy from us.
Get in Touch with Us
We can help you make good buying decisions; call 1-800-758-5438 right away or write to us at sales@dayelevator.com. Make use of our Free Online Consultation form for more information about our wheelchair lift costs and services. Our services can be availed anywhere in the Tri-State area of New York, New Jersey and Connecticut.