Inclined Platform Lifts
As a premier supplier of mobility equipment in the US, DAY Elevator & Lift offers quality inclined platform lifts from leading manufacturers. Since 1992, we have been in the industry serving a vast range of clients comprising home owners, architects, builders and contractors. Our services are made available anywhere in the Tri-State area of New York, New Jersey and Connecticut.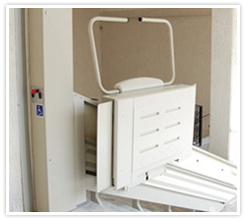 Inclined Platform Wheelchair Lifts
– Designed for Safety and Comfort

DAY's exclusive inclined platform lifts are designed with user safety in mind. We have different models with good loading capacity, safe for accommodating any type of wheelchair. They are designed for easy movement between different levels of a building.

Here are the inclined platform lifts we offer:

The ES-125 inclined wheelchair platform lift from Savaria is a reliable mobility solution for residential and commercial settings. It has a number of advanced safety features ranging from anti-skid surface and grab rails to safety braking system. Carrier-Lift from ThyssenKrupp Access is a user-friendly model that is a complete accessibility solution ideal for facilities with limited space. The equipment is designed to provide a smooth, quiet ride, whether your stairway is straight, curved or spiral. This model is distinguished by its space-saving design, as well as its cost-saving and ADA compliance features.

Responsive Service and Maintenance

At DAY, we will help you select wheelchair lifts that would ideally suit your building architecture. Apart from assisting in product selection, we can help you with proper installation. To ensure that your equipment functions flawlessly, we also offer scheduled checkups and maintenance services. For this we are backed by a team of certified technicians skilled in providing the necessary servicing for all platform lift models. Keeping pace with the latest technical specifications and industry standards, they can make your lifts function smoothly, and remain problem-free. Our on-call services are available round-the-clock. Therefore, you are ensured responsive services at any time.

Contact US

Call 1-800-758-5438 or send an email to sales@dayelevator.com, for any assistance or information you may require about the inclined platform lifts and other mobility products we sell.