Savaria Inclined Platform Lifts
DAY Elevator & Lift, New York offers premium models of wheelchair stair lifts from the leading manufacturer Savaria. Our wide inventory of Savaria inclined platform lifts includes the compact ES-125, perfectly designed to provide easy and safe floor to floor movement in residential and commercial buildings. With years of experience in the industry, DAY offers dedicated services and quality products for our customers in the Tri-State area of New York, New Jersey and Connecticut.
ES-125
Inclined Platform Lift
Ensures Safe and Comfortable Floor Access

The inclined platform lift ES-125 we offer comes with an innovative design and helps wheelchair users to move up and down the stairways safely. This wheelchair stair lift can be easily installed on most straight stairways in residences, churches, restaurants, municipal buildings, nursing homes and other facilities. Ideal for use both indoors and outdoors, the ES-125 is incorporated with the following features: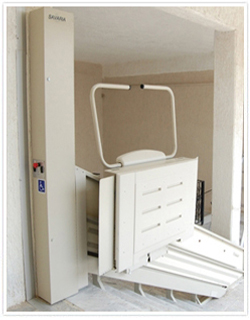 Non-skid surface on platform
Automatic dual access ramps
Slack cable switch
Keyed continuous pressure controls
Obstruction sensors on access ramps
Emergency brake
Underpan sensors
Emergency lowering hand crank
Folding seat with seatbelt
Audio visual alarm
2 grab rails on car
Upper/ lower limit switches
The ES-125 wheelchair stair lift has a folding platform. So, when the lift is not in use it can be kept folded compactly to the wall, and this leaves the stairway free for use by others. This lift can accommodate loads up to 450 lbs.
Prompt Installation and Maintenance Services
DAY offers professional installation, well-timed inspection and maintenance services for all models of wheelchair platform lifts. After an evaluation of your site and your specific requirements, our certified panel of technicians can help you select the appropriate model of wheelchair stair lift. We witness or perform category 1 and 5 testing for wheelchair lifts, and also take care of the necessary filings.
Contact Us to Know More
For more information about Savaria inclined platform lifts and the range of other accessibility devices that we offer, please dial our toll free number 800-758-5438, or write to us at sales@dayelevator.com.