Wheelchair Stair Lift
DAY Elevator & Lift provides a full range of accessibility products for customers in the Tri-State area of New York, New Jersey and Connecticut. Our product line includes wheelchair stair lift models from leading manufacturers including ThyssenKrupp Access, Savaria and Adaptive Engineering. Attractively designed wheelchair lifts will enhance your interior décor while adding more convenience.
Quality
Wheelchair Stair Lifts
for Improved Mobility

You can enjoy safe and comfortable movement up and down the stairs, with the innovative lift models we supply. Multiple safety features are built into each of our wheelchair lifts. Key locks, manual and power fold-up arms, emergency brake, slack chain switch and user safety belt are some of the advanced safety features you can find in the residential and commercial wheelchair stair lifts we distribute. To meet the unique demands of our customers, we continue to add new and innovative models to our product range.

Check out the wheelchair lifts we have at DAY Elevator & Lift: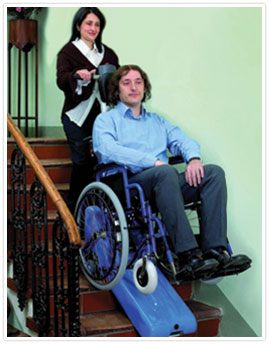 Contact Us Right Away
DAY offers premium installation and after sales services including repair and maintenance for every product you buy from us. For more information about the wheelchair stair lift models and other mobility equipment we distribute, reach us on phone at 1-800-758-5438 or email us at sales@dayelevator.com. To schedule an appointment, make use of our Free Consultation Form.