Savaria Portable Wheelchair Lifts
DAY Elevator & Lift is a New York based accessibility equipment dealer specialized in providing innovative mobility devices from popular brands. Our wheelchair lift company offers the Roby Powered Stair Climber, from the leading manufacturer Savaria. We serve customers in the Tri-State area of New York, New Jersey and Connecticut.
Roby Powered Stair Climber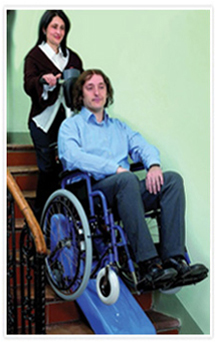 Roby Powered Stair Climber is a mobile tracked system that enables wheelchair users to safely access those places where conventional lifts or elevator systems cannot be used. This portable stair climber has a motorized electronic traction control system that helps the operator to easily move a wheelchair user up and down the stairways. The Roby is a perfect option for use in residential spaces, banquet halls, schools and other public buildings. Known for its quiet and smooth operation, this system has standard features such as:
Capacity of 285 lbs (130 kg)
Powerful motorized traction control grips
Manual emergency device: Allows safe descent during low battery conditions
Ideal for use on stairs up to a 35˚ angle
Safety belt
Emergency stop button
Keyed operation: restricts unauthorized access
Durable battery: enables several trips up or down on a single charge
Rubberized track: ensures secure floor contact without marring the floor surface
Compact two piece design: easily detachable for convenient transportation to other locations
Roby, the portable stair climber can be fixed securely with clamps to all standard pediatric or adult manual wheelchairs. The equipment comes with a warranty of 24 months for parts.
Testing and Maintenance Services
We ensure that our Roby portable stair climber is free from manufacturing defects and delivers consistent performance for a long time. Our certified team of technicians carries out professional installation, timely inspection, testing, maintenance and repair services for the portable wheelchair lifts you buy from us. We also perform or witness Category 1 and 5 testing for all models of wheelchair lifts and other accessibility devices.
For More Information
For more information on the elegant Roby Powered Stair Climber that we offer from Savaria, and other models of portable wheelchair lifts, please dial 800-758-5438 or write to us at sales@dayelevator.com. To schedule an appointment for a free consultation with us, fill out the consultation request form.