Roby Powered Stair Climber
DAY Elevator & Lift, a reputable supplier of accessibility devices in New York, offers state-of-the-art mobility equipment designed to provide convenient handicap access in residential and commercial buildings. We offer the Roby Powered Stair Climber from the distinguished brand Savaria. This portable stair climber enables wheelchair users to easily access places that are not serviced by a conventional elevator or lift system.
Roby
Portable Stair Climber
Ensures Smooth and Quiet Operation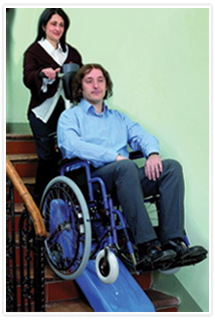 The Savaria Roby Powered Stair Climber has a motorized electronic traction control system that helps the operator move a wheelchair user up and down the stairways quite easily. It can be also used as an emergency evacuation system in banquet halls, schools and many other public buildings. To provide maximum convenience and comfort for both the wheelchair user and the operator, the stair climber is integrated with advanced features and safety options such as:
Safety belt
Emergency stop button
Manual emergency device: permits safe descent in case of a dead battery
Electronic traction control system
Rubberized track: ensures a secure floor contact without marring the floor surface
Keyed operation: restricts unauthorized access
Compact two piece design: easily detachable for conveniently transporting to alternate locations
Electronic battery charger with charge indicator
Durable battery: allows to make several trips up or down on a single charge
Slope indicator
The Roby is popular for its quiet and smooth operation. This portable stair climber can be used on up to 35˚ angle curved and straight stairways both indoors and outdoors in residences and commercial facilities. An easy-to-use, comfortable and compactly designed stair climber, Roby comes with parts warranty of 24 months.
Prompt Maintenance Services
DAY takes care of the installation, inspection, maintenance and repair services of all its accessibility devices, including portable wheelchair lifts. Our factory-trained technicians ensure that the products you buy from us function flawlessly. We also witness or perform Category 1 and 5 testing for all models of wheelchair lifts.
Get in Touch with Us Today
DAY's organized services and top-quality mobility devices are available for customers in the Tri-State area of New York, New Jersey and Connecticut. Learn more about the Roby Powered Stair Climber by dialing 800-758-5438; or write to us at sales@dayelevator.com. If you wish to schedule a free solutions consultation, please fill out the free consultation request form.