Vertical Wheelchair Lifts
DAY Elevator & Lift supplies quality vertical wheelchair lifts to help wheelchair users overcome mobility restrictions in residences and public spaces. The lifts provide easy and comfortable access between floors and to decks and porches. As a leading mobility equipment dealer in the US, we have a wide inventory of various kinds of lifts from leading manufacturers.
Ensuring a Barrier-Free Environment
The vertical wheelchair lifts that DAY Elevator & Lift offers help achieve a barrier-free environment. Our indoor and outdoor accessibility solutions are reliable, and ensure smooth and quiet operation. They include premium safety features such as mechanical emergency brakes, non-skid platform, slack cable switch, keyed continuous pressure controls, electronic free relay logic controller, roller guide shoes, and much more. To accommodate wheelchairs of different models and weights, our wheelchair lifts come with good loading capacity.
Vertical Platform Lifts
- Extensive Product Line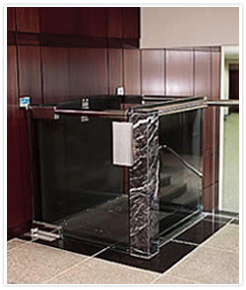 Whether you are looking for residential or commercial wheelchair lifts, we can help you find a solution to meet your needs, and customize it overcome any unique challenge that your environment presents. Our devices are designed to blend with any building décor. DAY's extensive inventory of vertical wheelchair lifts comprises the following models:
Quality Installation and Maintenance
Our certified technicians can provide quality installation, repair and maintenance services. We perform Category 1 and 5 testing for all models of wheelchair lifts. DAY has been in the industry since 1992 and serves customers in the Tri-State area of New York, New Jersey and Connecticut.
Contact Us
Call our toll free number 1-800-758-5438 or write to sales@dayelevator.com for additional information on the vertical wheelchair lifts we supply. Fill in the request form for a free solutions consultation.