Porch-Lift PL-ENC Enclosed Wheelchair Lift
Reputable suppliers of innovative accessibility devices, DAY Elevator & Lift offers high-end mobility equipment from industry-best manufacturers. We offer ThyssenKrupp Access's exclusive vertical platform lift model, Porch-Lift PL-ENC (enclosed lift) ideal for commercial settings. Our accessibility solutions and dedicated services are available for customers in the Tri-State area of New York, New Jersey and Connecticut.
Convenient
Wheelchair Platform Lift
for Indoor and Outdoor Use

The Porch-Lift PL-ENC wheelchair platform lift is a safe and convenient option for mobility restricted individuals. These customizable commercial wheelchair lifts offer them easy access both indoors and outdoors.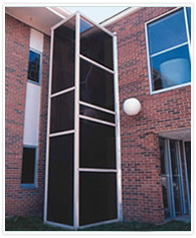 Door interlock, prevents the door from being opened when the platform is not available
Non-skid platform
3 Drive systems:
Battery powered hydraulic
A/C powered belt driven ballscrew
Battery powered belt driven ballscrew
ASME A-18.1 code compliant
Ivory powder coat finish
Acrylic panel inserts in guard panels
Auto-OpenerTM for doors and gates
Forced air ventilation
Remote controls with key lock to prevent unauthorized access
Shatterproof translucent acrylic panels in doors and sides
Corrosion resistant aluminum frame offers strong resistance to inclement weather
750 lbs loading capacity
Another specialty of the vertical wheelchair lift, Porch-Lift PL-ENC is that it does not require a hoistway, which makes it more compact and functional. The PL-ENC comes with one-year parts warranty and a two-year drive train warranty.
Experienced Experts for Trouble-free Installation Services
Our technicians offer trouble-free installation services for your vertical platform lift. They can assist you in finding the right model of commercial wheelchair lifts after a thorough assessment of your facility and your specific requirements. They take care of the inspection and maintenance services for your Porch-Lift PL-ENC at the right time to ensure its flawless functioning. We perform or witness category 1 and 5 testing for all models of wheelchair lifts and take care of the necessary filings as well.
Call Us Now
If you find that the vertical wheelchair lift, Porch-Lift PL-ENC (enclosed lift) that we offer from ThyssenKrupp Access is a helpful option to provide safe wheelchair access in your commercial establishment, please dial (800) 758-5438 or write to us at sales@dayelevator.com.