Certified Pre-Owned Wheelchair Lifts
DAY Elevator & Lift is your premier source for certified pre-owned wheelchair lifts. Our quality accessibility products can meet all your residential and commercial needs. We take pride in supplying premium wheelchair lifts and platform lifts from leading brands including Thyssenkrupp Access, Savaria and Adaptive Engineering. Our products and services are available in the Tri-state area of New York, New Jersey and Connecticut.

For information on our products and services, get in touch with us at 1-800- 758-5438, or send an email to sales@dayelevator.com.
Used Wheelchair Lifts
- Thoroughly Reconditioned

DAY has a dedicated team of skilled professionals to ensure that the certified pre-owned wheelchair lifts that you buy from us work perfectly. Certified technicians go through the equipment, and fix or replace parts if necessary. They make sure that the reconditioned device meets original manufacturer specification and function as well as new.

Wide Selection

We offer a wide selection of attractive models of used wheelchair lifts for indoor and outdoor use, including vertical wheelchair lifts, platform lifts and home wheelchair lifts. They are specially designed to accommodate any sort of wheelchair including power wheelchairs, sports wheelchairs, adult wheelchairs and child wheelchairs.

DAY's excellent selection of certified pre-owned wheelchair lifts and platform lifts includes: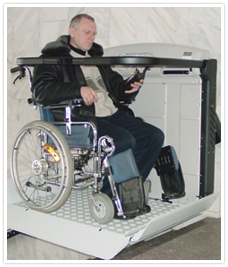 Our consultants offer all the advice and assistance you would need for your certified pre-owned wheelchair lifts, including purchase, installation and maintenance.