Adaptive Engineering Inc
Adaptive Engineering Inc is a reputable professional engineering company that designs and manufactures premium models of wheelchair lifts. They are specialized in designing and manufacturing products that are reliable, easy to use, safe and affordable. DAY Elevator & Lift, as an eminent distributor of accessibility equipment, offers high-end models of portable wheelchair lifts from Adaptive Engineering.
Adaptive Engineering Portable Wheelchair Lifts
Mobilift CX

Mobilift CX is a multi-purpose and reasonably priced wheelchair lift designed to provide comfortable and safe access for mobility challenged persons to elevated platforms, stages and outdoor bleachers. This wheelchair platform lift is a reliable accessibility solution for use in universities, churches, historic buildings, auditoriums, colleges and schools. Different from most vertical wheelchair lifts, the Mobilift CX is manually powered and so is often referred to as an environmentally friendly solution. Moreover, as this wheelchair lift system comes without batteries, electric and hydraulic components, it is practically maintenance free and more dependable. Here are some of the important features of "CX", the highly portable wheelchair lift: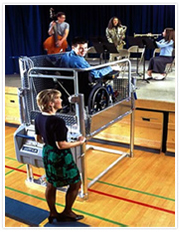 Easy to operate controls
Lifting capacity of 600 lbs
Travels a maximum height of 60" in 20 seconds
Weighs around 268 pounds and so it can be transported easily in any size pickup truck
Extremely low maintenance cost
No need of permanent installation or structural modifications
Locking cable to prevent unauthorized use
Moveable to reduce exposure to vandalism
Low acquisition cost
Easily customizable to reach over stairways and other obstacles
Requires only 4 lbs of pressure to move the lift on a hard level surface
Warranty of two years
Contact Us Today
For all models of wheelchair stair lifts, DAY offers quality installation, well-timed inspection, maintenance and repair services to ensure consistent functioning and durability of the equipment. We also perform or witness Category 1 and 5 testing for all wheelchair lifts.
DAY's exclusive products and professional services are available for customers in the Tri-State area comprising New York, New Jersey and Connecticut. Call us at 800-758-5438 or send an email to sales@dayelevator.com for more information about the finest model of portable wheelchair lift, the Mobilift CX that we offer from Adaptive Engineering, and a range of other branded products featured in our inventory. Please fill out the Free Consultation Request form to schedule your free solutions consultation.