Outdoor Wheelchair Lifts
Weather-protected, Durable
Wheelchair Lifts
for Outdoor Use

Check out DAY's selection of outdoor wheelchair lifts to be the proud owner of a weather-protected lift for your home, workplace, community center, or school. DAY Elevator & Lift is a reputable, New-York based accessibility solution provider dealing in portable, inclined, and vertical wheelchair lifts. Our wheelchair stair lifts are long-lasting, safe, offer a smooth ride, and are suitable for different designs of staircases. If you are based anywhere in the Tri-State area of New York, New Jersey, or Connecticut, do get in touch with us.

Manufacturer Guaranteed

You can rest assured that all wheelchair lifts available from DAY are free from manufacturing defects. The following are the different models we provide: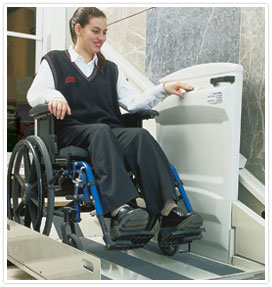 Professional Installation, Servicing, and Maintenance
Just make your selection and we'll install it for you. The DAY wheelchair lift company takes pride in its service and maintenance solutions directed at ensuring that your lift works without a hitch and is at its peak performance always. The highlights are:
On call service available round the clock
Certified and factory trained repair professionals
Periodic check-ups
Ongoing customer support
For answers to queries about the commercial wheelchair lifts and residential wheelchair lifts we provide, dial 1-800-758-5438 (toll-free) or write to sales@dayelevator.com.