Multilift Vertical Wheelchair Platform Lift
As a premier wheelchair lift company in New York, DAY Elevator & Lift offers innovative accessibility solutions for wheelchair users. Our product line includes the exclusively designed Multilift Vertical Platform Lift from the leading manufacturer Savaria. With our wide experience in the industry, we can help homeowners, architects and builders with quality installation and maintenance services for this wheelchair platform lift.
Innovative
Platform Lift
with High-end Safety Features

Multilift vertical platform lift is ideal for both residential and commercial use, indoors and outdoors. With its stylish, durable design, this vertical wheelchair lift offers extreme comfort and convenience for the users. To ensure safe and comfortable access, this wheelchair platform lift has the following safety features: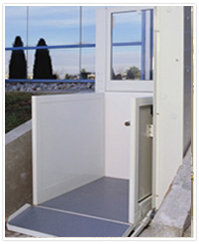 Non-skid platform
Emergency stop button on car
Underpan obstruction sensors: automatically stops the lift when an obstruction is sensed on its travel path
Automatic access ramps
Manual lowering crank
Slack cable switch
Keyed cab buttons
Keyed call stations
Continuous pressure operation
42 1/8" (1070 mm) side panels
Reliable and Easy- to-Use
The Multilift can accommodate loads up to 750 lbs, and travels with a speed of 8 ft/min (0.04 m/s). It comes with a self-enclosed drive tower and base, which helps easy installation of the equipment. Available in three standard platform sizes, the Multilift is a reliable and easy-to-use option for low-rise travel. Moreover, this vertical wheelchair platform lift is offered with an ample thirty six months parts warranty.
Organized Installation and Prompt Maintenance
DAY's aim is to present you the finest accessibility devices that feature flawless functioning and long-term durability. Our skilled panel of factory trained professionals delivers organized installation solutions as well as prompt inspection, maintenance and repair services for all the models of vertical wheelchair lifts. We also witness or perform Category 1 and 5 testing for wheelchair lifts.
Get in Touch with Us Today
DAY's dedicated services and quality products are available to the customers in the Tri-State area of New York, New Jersey and Connecticut. To learn more about the Multilift vertical platform lift and the other models we supply, dial 800-758-5438 or write to us at sales@dayelevator.com. To schedule a free solutions consultation with us, please fill out the free consultation request form.