Home Wheelchair Lifts
DAY Elevator & Lift offers brand name home wheelchair lifts to help people with limited mobility move easily from a downstairs room to one at the next level. A leading mobility equipment dealer in the US, DAY serves the Tri-State area of New York, New Jersey and Connecticut.

Installed in any downstairs room where the lift can travel vertically through an aperture in the ceiling to the room above.
Our Product Line
DAY stocks an extensive range of wheelchair lifts for home from the industry's leading manufacturers. The models in our inventory comprise the following: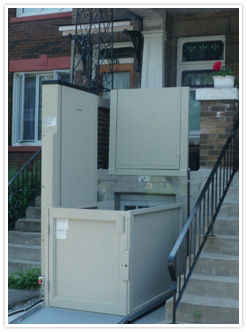 Customizable models of Home
Wheelchair Lifts
All the models of residential wheelchair lifts we supply can be customized to suit your unique requirements. Our product line includes visually attractive and sleek models that blend with your home décor. They are also compact and do not take up much space when parked. They come with numerous advanced safety features including safety belts, remote control, and non-skid platform to ensure smooth and noiseless travel. Our home wheelchair units are built to conform to ADA specifications.
Quality Repair and Maintenance
DAY's expert installation services covers onsite inspection and assistance to choose the appropriate wheelchair lift for your home. Our certified technicians deliver quality wheelchair lift installation, and repair and maintenance services. We provide Category 1 and 5 testing for all models of wheelchair lifts.
Contact Us
Our quality home wheelchair lifts can make a real difference to the way you move around your residence. Contact us at 1-800-758-5438 (toll-free), or send an email to sales@dayelevator.com. Please fill in our online request form for a free consultation.