Porch-Lift PL-RA (Residential) Wheelchair Platform Lift
Based in New York, DAY Elevator & Lift is a reputable distributor of accessibility solutions, offering the finest quality lifts and elevators from well-known brands. We provide the latest residential wheelchair lifts including the popular Porch-Lift PL-RA residential wheelchair platform lift from the leading manufacturer, ThyssenKrupp Access. Stylish, compact design and excellent functionality distinguish the Porch-Lift PL-RA.
Residential Wheelchair Lift
with Quality Safety Options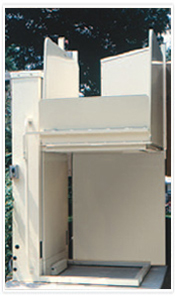 The Porch–Lift PL-RA, the residential wheelchair platform lift we offer is spacious and can accommodate wheelchairs of any size. This vertical platform lift is specifically designed, fully compliant with the ADA accessibility guidelines. It has a lifting capacity of 750 lbs, and ensures a quiet and smooth ride. The home wheelchair lift Porch Lift PL-RA is integrated with the following user-friendly controls and advanced safety options:
Non-skid platform
Emergency stop button
Constant pressure up/ down control switch on the platform
Highly sensitive obstruction sensors: Stops the lift instantly when an obstruction is encountered on its travel path, protects the user from injuries and damage to the lift.
Key lock to protect the lift from unauthorized use
VDRTM mechanical interlocks prevent the lift from moving until the gate is securely closed
Directional paddle
Optional remote controls to provide instant access
This residential wheelchair lift comes with an Acme screw design drive system and has an automatic folding ramp at the lower landing and a gate at the upper landing. It can operate on standard household current.
Prompt Inspection and Maintenance Services
DAY Elevator & Lift values the satisfaction of the customers, and offers dedicated services. We can assist in selecting the right wheelchair lift for your home, after a careful evaluation of your site and the specific requirements. Our certified technicians provide installation services for your vertical wheelchair lifts. They undertake the inspection and maintenance services on time, which would considerably reduce equipment downtime and improve its performance. We also witness or perform Category 1 and 5 testing for all models of wheelchair lifts. Our products and services are available for customers in the Tri-State area of New York, New Jersey and Connecticut.
Contact Us
For more details about the Porch-Lift PL-RA residential wheelchair platform lift from ThyssenKrupp Access, and a range of other accessibility devices we have in stock, please dial 800-758-5438 or send an email to sales@dayelevator.com.