Portable Wheelchair Lifts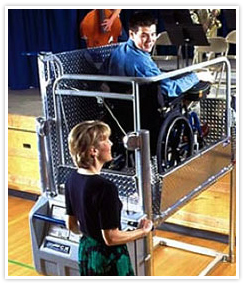 As an authorized dealer for accessibility products in the US, DAY Elevator & Lift offers premium brands of portable wheelchair lifts for use in residences and business locations. With many years experience in the industry, DAY has become a dependable source for home owners, builders, architects and contractors in the Tri-State area.
Wheelchair Lifts
from Leading Manufacturers

DAY's portable wheelchair lifts are mainly sourced from industry leading brands such as Adaptive Engineering and Savaria. We offer the following premium models:

Features and Safety Standards

All models of portable wheelchair lifts we supply come with built-in features that offer convenient and safe access to stages, porches, outdoor bleachers, floors and platforms. One of their outstanding features is their capability to accommodate all types of wheelchairs, whether conventional adult wheelchairs, power wheelchairs, sports wheelchairs, or child wheelchairs.

The Roby Powered Stair Climber from Savaria is one of the unique models, specially designed for comfortable access to the different floors in your building. They operate through a motorized traction control system. Adaptive Engineering's Mobilift CX lifts are multi-purpose, manually powered vertical lifts. Electricity, battery or hydraulic components are not required to operate them. Both models are safe for use both indoors and outdoors.

Professional Servicing and Maintenance

At DAY, we are backed by an enthusiastic team of professionals who ensure that the products you purchase from us function smoothly and efficiently. For this, we deliver proper installation and necessary repair and maintenance services whenever you require. Our certified technicians will come to your location, assess your requirements, and provide necessary assistance. We perform Category 1 and 5 testing for all wheelchair lifts.

Contact Us

Call our toll free number, 1-800-758-5438 or send an email to sales@dayelevator.com, for more information about our portable wheelchair lifts, and other related products and services. Fill out the form available at our website, to request a free consultation. Our services are available anywhere in the Tri-State area of New York, New Jersey and Connecticut.