Mobilift CX Portable Wheelchair Lift
DAY Elevator & Lift offers an exclusive range of mobility devices to meet the accessibility requirements of the elderly and physically disabled individuals. Our wheelchair lifts include the stylish, easy-to-use Mobilift CX portable wheelchair lift from the leading brand Adaptive Engineering. Mobilift CX is an affordable and multi-purpose wheelchair platform lift that offers easy and convenient access to outdoor bleachers, stages and elevated platforms.
Manually Powered
Portable Wheelchair Lifts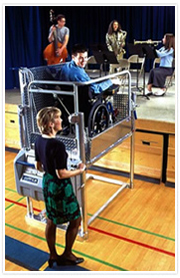 Mobilift CX portable wheelchair lifts are the perfect choice for auditoriums, schools, churches, universities, historic buildings, and colleges. The major advantage of this wheelchair platform lift is that it is manually powered and can be operated easily without electricity. Besides, this platform lift is highly portable, and provides the user access to more than one portion of the same facility. Perfectly designed for use both indoors and outdoors, Mobilift CX can be easily moved outside so that wheelchair users can access outdoor stages for events such as graduation or commencement ceremonies. The absence of hydraulic, electric components and batteries makes it an extremely reliable and practically maintenance-free accessibility option. Core features of the exclusively designed Mobilift CX are:
600 lbs lifting capacity
Lift height: 66" (1.67m)
Platform size: 34" X 56" (0.86m X 1.42m)
Locking cable to prevent unauthorized use
Easy to operate controls
Travels a height of 60" in 20 seconds
Weighs around 268 pounds and can be transported in any size pickup truck
The Mobilift CX can be customized with bridge ramps of varying lengths to reach over complex stairways and other impediments. The lift comes with a warranty of two years.
Prompt Inspection and Maintenance Services
We have a skilled panel of technicians to provide trouble-free installation service for all models of wheelchair platform lifts. We witness or perform Category 1 and 5 testing for wheelchair lifts.
For More Information
Our services and products are available in the Tri-State area of New York, New Jersey and Connecticut. For more information on Mobilift CX portable wheelchair lift and the other models of commercial wheelchair lifts that we supply, call 800-758-5438 or write to us at sales@dayelevator.com. If you wish to schedule a free consultation, please fill out the consultation request form.