Savaria Vertical Platform Lifts
DAY Elevator & Lift is an established distributor of high-end models of vertical platform lifts from Savaria. We offer two of their popular vertical wheelchair lifts – the Multilift and V-1504.
The Multilift

The Multilift platform lifts are perfectly designed for low-rise travel. This Savaria vertical platform lifts can be installed easily and come with features such as: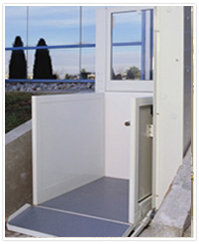 Automatic access ramps
Lifting capacity of 750 lbs
Non-skid platform
Manual lowering device
Slack cable switch
Emergency stop button on car
Emergency alarm
Continuous pressure operation
Keyed access on call station and car
Under pan obstruction sensors
Travels with a speed of (0.04 m/s)
42 1/8" (1070 mm) side panels
The V-1504

The V-1504 model wheelchair platform lift features a platform and tower, the size and height of which can be easily customized according to particular user requirements. This wheelchair lift with its versatile design, ease of use, consistent performance and exclusive finish is a perfect option for the rugged outdoors as well as the luxurious office tower lobbies. The major models available in this series include
V-1504-ALPE: Elegant enclosed model that uses acrylic and aluminum inserts and top dome with corrosion resistant steel components that make it a convenient option for outdoor applications.
V-1504-STD: Ideal to provide safe access indoors and outdoors. It can travel a standard 48" with two stops, or optionally more distance and stops.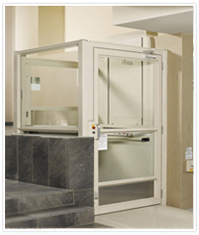 The Savaria V-1504 model wheelchair platform lift is integrated with user-friendly controls and high-end safety options such as:
Non-skid, large ADA-compliant platform
Underpan obstruction sensors
Emergency stop button on car
Continuous pressure button operation
Safety brake
Door locks
Manual lowering device
Emergency light and alarm
Platform gate
Hand rail
Vertical Platform Lifts
– Efficient Installation and Repair Services

DAY offers trouble-free installation, inspection, maintenance and repair services for these vertical wheelchair lifts. We also witness or perform Category 1 and 5 testing for wheelchair lifts and other mobility devices. Our services are available in the entire Tri-State area of New York, New Jersey and Connecticut.

For more information about the range of Savaria vertical platform lifts that we offer, please call us at 800-758-5438, or send an email to sales@dayelevator.com. If you would like to have a free solutions consultation, please fill in the free consultation request form.