ThyssenKrupp Access Inclined Platform Lifts
ThyssenKrupp Access inclined platform lifts offered by DAY Elevator and Lift is a great accessibility option for physically challenged individuals. Based in New York, DAY is an experienced distributor, offering premium accessibility solutions and quality services all the time. Specifically designed with user-friendly controls and top quality safety features, the wheelchair stair lift Carrier-Lift we offer from ThyssenKrupp access is ideal in public buildings that have space limitations.
Carrier-Lift -- A Versatile
Platform Lift
The Carrier-Lift is perfectly designed with cutting-edge technology and is fully compliant with the ADA accessibility regulations. This wheelchair stair lift offers extreme versatility and can be installed on straight, curved or spiral stairways in churches, schools or small office buildings. It can accommodate loads up to 450 lbs. To ensure smooth, safe and quiet travel up and down the stairway, this elegant inclined platform lift is incorporated with the following safety features and controls: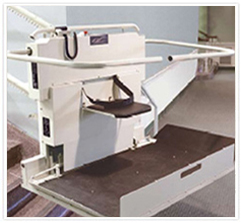 Automatic access ramps with non-slip surface
Power fold platform
Obstruction sensors: Stops the movement of the lift, whenever it encounters an obstruction
Low voltage constant pressure directional switches
Fold-up safety arms
Emergency stop switch
Fold-up seat with seat belt
Manual lowering device
Overspeed safety device: Electromechanical, which activates on overspeed condition to disable controls and prevent the unit from moving down track
Keylock switches
Ongoing Support and Maintenance
DAY Elevator & Lift has a skilled panel of technicians that can help you choose the wheelchair lifts most appropriate for you, after an evaluation of your site and specific accessibility requirements. Our professionals offer trouble-free installation, prompt inspection and well-timed maintenance services for the wheelchair platform lift, the Carrier-Lift. We perform or witness category 1 and 5 testing for wheelchair lifts, and efficiently manage all the necessary filings as well.
Get in Touch With Us
Our assurance of quality and consistent services has made us the leading distributors of mobility solutions. For more information about ThyssenKrupp Access inclined platform lifts and other accessibility equipment we offer, please dial 800-758-5438 (Toll Free) or write to us at sales@dayelevator.com. Our exclusive range of products and professional services are available for the customers in the Tri-State area of New York, New Jersey and Connecticut.