Porch-Lift PL-S (Standard) Wheelchair Platform Lift
DAY Elevator & Lift offers a wide range of mobility products from leading manufacturers. To provide wheelchair users convenient and safe access in commercial areas such as elementary schools, corporate headquarters and medical centers, we offer Porch-Lift PL-S (Standard) Wheelchair Platform Lift from ThyssenKrupp Access. Featuring powerful functionality and elegant appearance, this vertical platform lift can be customized to blend naturally with the surroundings, while completely maintaining the ambience of your facility.
Porch Lift PL-S – the Perfect Choice for Commercial Facilities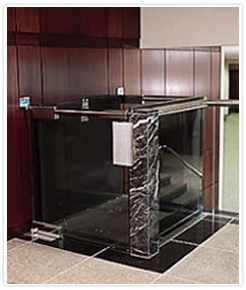 ThyssenKrupp Access's wheelchair platform lift Porch-Lift PL-S is a standard model, since it is the measuring standard used to evaluate all the other models of wheelchair lifts. The vertical wheelchair lift Porch-Lift PL-S has:
Non-skid platform of sizes 36"x 48", 36"x56", 36"x60"
Highly sensitive obstruction sensors
3 Drive systems:
A/C powered belt driven ballscrew
Battery powered belt driven ballscrew
Battery powered hydraulic
Remote controls with key lock to prevent unauthorized access
Auto-OpenerTM for doors and gates
Accommodates loads up to 750 lbs
Travels up to 3 stops
Acrylic panel inserts in guard panels
Warranty Options
You can select your Porch-Lift PL-S wheelchair platform lift from an extensive range of gates or doors including the extra wide gates and fire-rated doors. To perfectly match with the décor of your commercial facility, you can choose the right color from around 180 color combinations. This ASME A-18.1 code compliant vertical wheelchair lift comes with two-year drive train and one-year parts warranty.
Efficient Installation Services
DAY Elevator & Lift offers professional installation for your wheelchair platform lift, the Porch-Lift PL-S. Our knowledgeable technicians can help you select the appropriate model from our exclusive collection of commercial wheelchair lifts after an evaluation of your site and requirements. They also provide timely inspection and maintenance services. We witness or perform category 1 and 5 testing for wheelchair lifts.
For more information about the commercial wheelchair lift Porch-Lift PL-S, and the other mobility devices we offer, please call (800) 758-5438, or send an email to sales@dayelevator.com. DAY's professional services and premium quality products are available to customers in the Tri-State area of New York, New Jersey and Connecticut.