ThyssenKrupp Access Vertical Platform Lifts
DAY Elevator & Lift, a reputable supplier of quality mobility products in New York, offers vertical platform lifts from ThyssenKrupp Access. These are specifically designed for wheelchair users, enabling them safe and easy access in residential and public buildings.
Porch-Lift PL-RA (Residential)

Ideal for use both indoors and outdoors, the Porch-Lift PL-RA is a vertical wheelchair platform lift with the following features: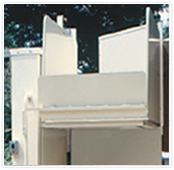 Lifting capacity of 750 pounds
Non-skid platform
Lifting height of up to 72"
Emergency stop button
Key lock to protect the lift from unauthorized use
Extremely sensitive obstruction sensors
Automatic folding ramp at the lower landing
Upper landing featured with a gate
Operates on house hold current
Porch-Lift PL-S (Standard)

The Porch-Lift PL-S from ThyssenKrupp Access is the measuring standard used for evaluating all other models of wheelchair lifts.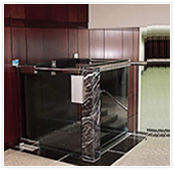 Loading capacity of up to 750 lbs
Non-skid platform of sizes 36"x 48", 36"x56", 36"x60"
Three drive systems:
Battery powered belt driven ballscrew
A/C powered belt driven ballscrew
Battery powered hydraulic
Obstruction sensors
ASME A-18.1 code compliant
Ivory powder coat finish
Auto-OpenerTM for gates and doors
Remote controls with key lock to prevent unauthorized use
Porch-Lift PL-ENC (Enclosed Lift)
The Porch-Lift PL-ENC wheelchair platform lift is the perfect option for safe access in commercial facilities. Ideal for use indoors and outdoors, this wheelchair lift can be installed easily and is customizable according to the requirements of the user. PL-ENC, the enclosed wheelchair lift is incorporated with features including: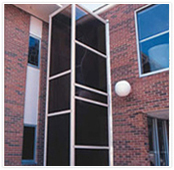 Three drive systems
Battery powered belt driven ballscrew
A/C powered belt driven ballscrew
Battery powered hydraulic
Loading capacity of 750 lbs
Remote controls to prevent unauthorized use of the lift
14'3" vertical travel with up to 3 stops
ASME A-18.1 code compliant
Acrylic panel inserts in guard panel
Forced air ventilation
Auto-OpenerTM for doors and gates
Porch-Lift PL-TG (Toe Guard)

The Porch-Lift PL-TG (Toe Guard) is the vertical platform lift model that can be installed easily without making major alterations to your building. The PL-TG is a partially enclosed wheelchair lift that does not require a hoistway.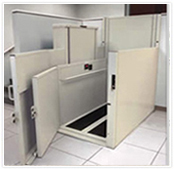 Partial enclosure
Two non-skid platform of sizes: 36"x60", 36"x48"
53" high toe-guard feature : works as a hoistway
Remote control integrated doors and frames
Acrylic panel door inserts
Three drive systems:
A/C powered belt driven ballscrew
Battery powered belt driven ballscrew
Battery powered hydraulic
Porch-Lift PL-P (Portable Lift)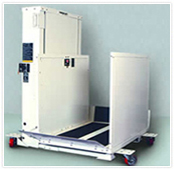 ThyssenKrupp Access's vertical platform lift, the Porch Lift PL-P is specifically designed for use in schools, gymnasiums, stages, courtrooms and many other places, where lifts are not required all the time. This wheelchair lift comes with high-end safety features such as:
Platform controls with emergency stop button and alarm
Constant pressure paddle
Landing controls
Automatic powered ramps
Highly sensitive obstruction sensors
Removable wheels for easy maneuverability
Easy-to-use adjustable switch : allows to select the appropriate height limit
Porch-Lift PL-EZE (Economy Enclosed Lift)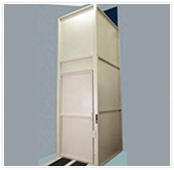 The Porch-Lift PL-EZE wheelchair platform lift is a budget friendly accessibility device from ThyssenKrupp Access. This wheelchair lift though economic, comes with almost all the same features of the premium enclosed model, the PL-ENC. Features integrated in PL-EZE:
VDRTM mechanical interlocks on every door or gate
Lifting capacity of 750 lbs
Key lock to prevent unauthorized access
Ivory powder coat finish
Gates and doorframes integrated with remote controls
ASME 18.1 code compliant
Contact Us Now
For more information about ThyssenKrupp Access vertical platform lifts and other accessibility products we supply, call us at 800-758-5438 or send an email to sales@dayelevator.com. We offer trouble-free installation, inspection, repair and maintenance services for all models of vertical wheelchair lifts, as well as perform or witness Category 1 and 5 testing. DAY's products and services are available for all the customers in the Tri-State area of New York, New Jersey and Connecticut.