Porch-Lift PL-TG Wheelchair Lift
DAY Elevator & Lift, based in New York, is pleased to offer the elegant vertical wheelchair lift, Porch-Lift PL-TG from the reputable manufacturer ThyssenKrupp Access. The main advantage of this wheelchair platform lift designed for commercial purposes is that it can be easily installed in commercial establishments without making major structural modifications. The Porch-Lift PL-TG features three drive systems and 750 lb loading capacity.
Porch-Lift PL- TG
Wheelchair Platform Lift
with Exceptional Features

The PL-TG vertical platform lift does not require a hoistway. Its "toe-guard" feature functions as a hoistway and protects the user as the lift starts moving. This commercial wheelchair lift is designed with a partial enclosure. Here are some of the features of this compact wheelchair lift: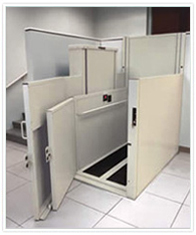 Two non-skid platform with dimensions: 36"x60", 36"x48"
Up to 4'4" of vertical travel
Gate and door frames integrated with remote controls
3 drive systems:
A/C powered belt driven ballscrew
Battery powered hydraulic
Battery powered belt driven ballscrew
ASME A-18.1 code compliant
Ivory powder coat finish
Auto-Opener TM for doors and gates
Acrylic panel inserts
Porch-Lift PL-TG is a UL listed wheelchair platform lift that comes with a two year warranty for the drive train and one year warranty for parts. This vertical wheelchair lift offers you the choice to select from doors and gates including extra wide gates and fire-rated doors. You also have the option to pick your favorite color from over 180 color combinations.
Dedicated Customer Service
DAY Elevator & Lift provides professional installation, inspection, maintenance, and repair services for all the mobility devices we offer including our vertical wheelchair lift, Porch-Lift PL-TG. After an evaluation of your site and the specific requirements, we can help you select the wheelchair lift that best suits your facility. We also perform or witness category 1 and 5 testing for all models of wheelchair lifts. Our services are available in the Tri-State area of New York, New Jersey and Connecticut.
For more information about the wheelchair platform lift, Porch-Lift PL-TG and other commercial wheelchair lifts we offer from ThyssenKrupp Access, dial (800) 758-5438, or send an email to sales@dayelevator.com.