Porch-Lift PL-P Portable Wheelchair Lift
An established dealer of quality mobility equipment in New York, DAY Elevator & Lift offers the Porch-Lift PL-P portable wheelchair lift manufactured by ThyssenKrupp Access. A great accessibility option for wheelchair users, the PL-P is the perfect wheelchair platform lift to access stages, outdoor beaches, courtrooms, gymnasiums, platforms and schools. DAY's professional services and innovative accessibility products are available for customers in the Tri-State area of New York, New Jersey and Connecticut.
Vertical Platform Lifts
with User-friendly Controls and High-End Safety Options

The vertical platform lift Porch-Lift PL-P comes with a lifting capacity of 750 lbs, and can lift up to 6'3" of travel with 2 stops. This wheelchair platform lift is an ideal choice for those who need wheelchair access to different rooms in the same building or at manifold venues. To ensure smooth and comfortable travel, the PL-P portable wheelchair lift is incorporated with the following features: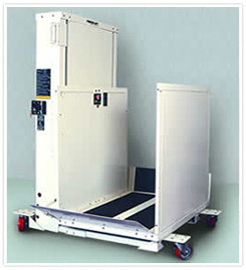 15-1/2" automatic folding access ramp at lower landing
A/C powered belt driven ballscrew drive system
Key lock to prevent unauthorized access
Platform controls: Constant pressure paddle with emergency alarm and stop controls
Landing controls attached to the lift tower
10" automatic folding access ramp at upper landing
36"x48" Platform
Ivory powder coat finish, which is more durable than paint
The PL-P vertical wheelchair lift is known for multiple safety features. It comes with highly sensitive safety sensors to detect objects blocking its path, which helps prevent damage to the item or the lift. The automatic powered ramps in the lift ensure secure access to the platform. This elegant portable wheelchair lift is provided a one year warranty for parts and two year warranty for the drive train.
Experienced Technicians Ensure Efficient Installation Services
DAY Elevator & Lift offers the services of an experienced panel of technicians to manage the installation of the vertical platform lift Porch-Lift PL-P. Further, they offer timely inspection and maintenance services to ensure flawless functioning of the equipment for a long time. DAY performs or witnesses category 1 and 5 testing for wheelchair lifts, and takes care of all the filings as well.
Contact Information
To find out more about Porch-Lift PL-P portable wheelchair lift and the other models of commercial wheelchair lifts that we offer from ThyssenKrupp Access call (800) 758-5438 or write to us at sales@dayelevator.com.